When it comes to advertising, Facebook gives you multiple ways to tell your story through different ad formats.
By "ad format" we mean the structure and content of your ad, and there are currently 5 different formats to choose from:
Image Ads
Carousel Ads
Slideshow Ads
Video Ads
Canvas Ads
When choosing a format, you need to answer a few questions about the ad campaign itself. What is your goal? Who do you want to reach? Where do you want to reach them? And most importantly, where do you want the storytelling to take place?
Let's take a closer look at each of these formats, and explore the different ways each one can be utilized for your Facebook marketing.
Image Ads
Specs:
One image (1200x628px)
Ad text
Headline
URL Description (optional)
Image ads are the "classic" Facebook ad, and usually the most common since they're the easiest to put together.
It should go without saying, but the image is obviously the most important factor here. You want to use an attention grabbing image that tells half the story before a user even reads the headline. Keep in mind that any text on the image should be kept to a minimum, as anything over 20% will significantly affect your ad's reach.
Keep your headline short and to the point, and hit any important high notes in the ad text (the text above the image). Try not to bury any important information in the URL description (text below the headline), because it gets cut off on mobile and side ads.
Though not as interactive as other formats, image ads are a great option for brand awareness (such as blog traffic and page likes), and promoting specific deals or specials on a particular product or service.
Carousel Ads
Specs:
Can include up to 10 images or short videos (1080x1080px)
Ad text
Unique headline for each image/video
Headline descriptions for each image video (25 character limit)
Carousel ads are similar to image ads, but allow you to include multiple images that users can scroll through.
Because each image is basically a tiny ad within an ad, you can customize each one and even include multiple different URLs. So the benefit is that you can advertise different products and map them to specific pages without having to run more than one ad.
That said, you can also use carousel ads to tell a bigger story surrounding a specific topic—like in the image example to the right.
Thanks to the expanded image options and ability to engage more with the ad, this format is perfect for increasing conversions. For some examples on brands that got REALLY creative with carousel ads, just follow this link.
Slideshow Ads
Specs:
Can include multiple images or short videos (1280x720px)
Ad text
Text overlay on images
Includes music
Slideshow ads are "lightweight" video ads you can create in the Ad Manager. They're simple to create and take up less bandwidth than uploaded videos, making them easier to view across different devices and internet speeds.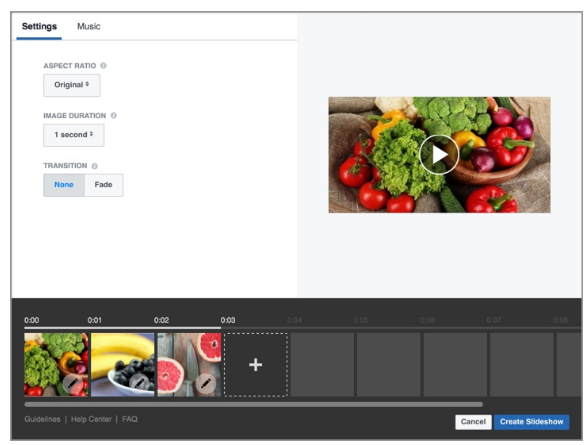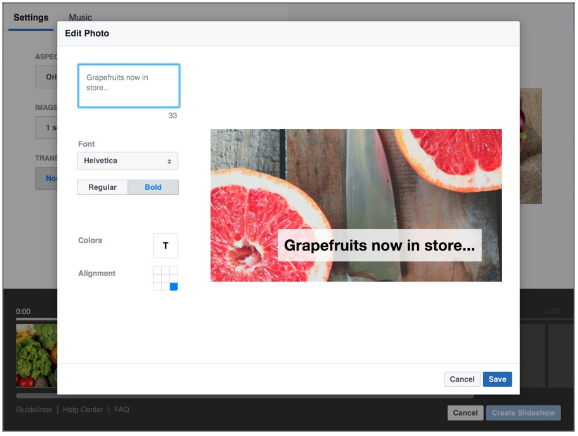 That said, they do come some production limitations, especially with overlay text and music. Regardless, slideshow ads are a great way to tell an even deeper story with images, and they're a perfect option for brand awareness, increasing store traffic (ex: feature products, store interior, etc), and event promotion (ex: photos/short videos of past events, what to expect, etc).
Video Ads
Specs:
Uploaded video
Aspect ratio: 1.77:1 / 16:9 / HDTV, 2:39:1 or 2:40:1 / Widescreen / 9:16, 1:1 / 1.33:1 / 4:3 / SDTV, 1.375:1 / film, 1.85:1 / Film, no pillar boxing or letter boxing.
120 minutes max length
Ad text
The video ad format looks a lot like the image ad format, except instead of a single, static image, it features a video (duh).
Videos are created outside of Facebook and uploaded in the ad manager. Use the ad text as a basic gist/intro to your video, but let the video do the real storytelling.
Video ads provide a much more immersive, informative option for your advertising. Some of the most popular ways brands use video ads include:
Vlogs
Advice/Self-Help
Product Demonstration
Political/Social Causes
There are a few things you need to consider before posting your video, however. Who is your audience? Will your video hold their attention? Better yet, will it convert?
Video can be an extremely effective vehicle, but the content still has to be on point. Even flawless production won't make up for bad content.
Canvas Ads
Specs:
Mobile only ads
Include a combination of videos and images of varying sizes
Allow for various different interactions
Canvas ads are on a completely different level than any other format we've discussed so far. They're extremely immersive and interactive, and focus on selling or converting the user before they even get to your website. The drawback is that they're a bit more time consuming to create, and require a highly creative strategy.
It's honestly hard to put into words how Canvas Ads work, so check out this demonstration from American Express:
Bonus: Messenger Ads
Messenger ads aren't technically a format, but they're still worth mentioning. These ads are actually an option that can be used on every format except Canvas.
Rather than sending a user to your website, you can include a button that automatically opens up their Facebook Messenger and starts a conversation with your business. You can see in the examples below how this option is a great way to promote deals or coupons.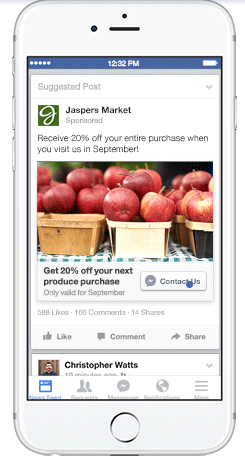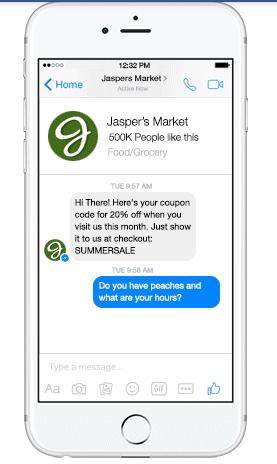 But more than that, it removes any and all additional barriers and takes the consumer directly to you. It's a highly authentic, transparent option that, when used properly, will go a long way for your brand.